FOR NEW NRFPG POSTS, SCROLL DOWN!
By: Mary Fran Bontempo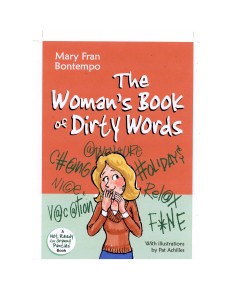 Well, it's been a labor of love (and sweat, and tears), but it's finished! The next book in the Not Ready for Granny Panties series, titled The Woman's Book of Dirty Words, will be published this summer! In fact, the e-book will be available even sooner. See what it's all about below. Stayed tuned for the publication date and check out this fabulous video below by NRFGP own amazing illustrator, Pat Achilles! (Am I using too many exclamation points?!!! I'm really excited!!!!!!)
The Woman's Book of Dirty Words
We women talk—a lot. Yet, the words that take others to their happy place often make us miserable. Words like "vacation," "dinner," and "holidays" can leave us breathing into a paper bag with our head between our knees. It doesn't have to be that way. Join Mary Fran Bontempo and redefine the "dirty words" that make women cringe. You'll laugh, learn, make some changes and trim your "dirty words" list down to size!