By: Chrysa Smith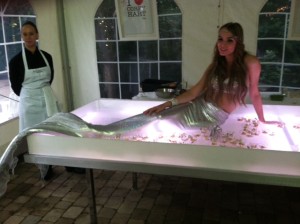 It may be a beautiful floral arrangement for the table. Maybe, it'll be some fancy hors d'oeuvres. It might even be my outfit. That's about my special touch for a get-together. But a mermaid?
A customer of my husband has extraordinary tastes. Crocodile shoes. Fancy cuff links. Aviators in almost every color combination. Italian cars. You get the picture. A great guy with a completely matter-of-fact style, there's no mincing words. There's no room for non-discriminating tastes. And any event thrown by he and his wife? Well, absolutely spectacular.
We just returned from a hospital fundraiser disguised as a 'white party.' That, if you didn't already know, is a tres chic event where everyone dresses in their best summer whites. Women? Bare and snug as possible, from my observation. And it has been every year we have attended.
There's always a theme—-and this year it was a seafood menu. A sushi bar, octopus, crab and scallops—-complete with a mermaid  lounging in her floating habitat. That's right. Flipper, center left hung over a shallow 'tub', where cupped scallops floated their way around. A lovely nibble while the harpist played in the background and the white outfits to the white tents to the white lawn furniture and lawn obelisks hypnotized guests as they downed their Belvedere vodka—or other libations from the bar.
When it came time for dinner, we were ushered to a much larger tent. Giant, sparkling chandeliers hung from the tent ceilings. Glass tables and Lucite chairs set a translucent tone to the tables set with dozens of glasses and silver centerpieces with hydrangeas and bare branches holding cascading glass balls. Just lovely.  I can't even remember all of the courses, except to say that everything was delicious—-and much—too—much for the calorie-compliant.  But the highlight of the evening, after a lovely band that played all of the popular tunes, was a flashback in time with a performance from The Pointer Sisters. Can you believe it? No IPod for these folks. The gals belted out some time-honored tunes, with voices that have stood the test of time.
I had a great time. And while I'll never be hostess to such an event, it makes me glad there are those who are. In the ho-hum of the everyday, it's nice to feel like royalty at least once a year. If we can make it there, live the good life and contribute to a good cause (environmental cancer research) you bet we'll be there—-white duds and all.
[/fusion_builder_column][/fusion_builder_row][/fusion_builder_container]