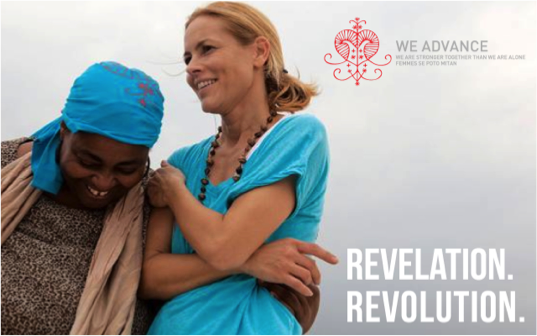 By: Mary Fran Bontempo
When you think of the lovely actress, Maria Bello, you may think of her starring turns in movies like Coyote Ugly, The Cooler, and 2010's  heartbreaking Beautiful Boy.
What you probably don't think of is the poverty and devastation in some of the world's worst and most dangerous slums in Haiti.
But that's exactly what Bello wants you to think of when her name comes up. That, and the power of women to change it.
I was privileged to hear Bello speak yesterday at BEN FM's Woman of the Week luncheon, where she discussed the organization she co-founded, We Advance, "a movement to advance the health, safety, and well being of women throughout Haiti." The NGO (non-government organization) focuses much of its efforts in the areas known as Wharf Jeremy and Cité Soleil–two of the most notoriously dangerous locations in Haiti. Why the worst of the worst? As We Advance co-founder and activist, Barbara Guillaume, says: "If we can change the worst of Haiti we can change all of Haiti."
We Advance works directly with Haitian women to determine their needs, from health care, to education, to counseling, to sanitation. In fact one of the organization's programs simply bathes children once a week, a basic cleanliness ritual most of us take for granted.
One of the group's goals is to utilize technology and train women how to access services, as well as to teach them how to manage their own challenges. And ultimately, We Advance hopes to transfer the running of the organization to the Haitian women themselves, for who better to know what's required than those who live it?
Bello described her belief in a "new feminism," defined by a compassion and gentleness that raises up women everywhere as we work together to make the world a safe, healthy place for our children and those in need.
This weekend, check out one of Maria Bello's films (I particularly liked The Cooler), or catch up on her new series, Touch, with Keifer Sutherland. After that, visit the We Advance website to learn more about her important work. And don't forget that Donation button in the upper right hand corner. Because with your help, as Maria Bello says, We Advance Together.