By: Tina Sottolano-Cain
Guest blogger, Tina Sottolano-Cain, is in the beauty business–natural, growing beauty, that is. Tina creates gorgeous container gardens that brighten up decks, dreary corners and patios, and makes things easy for those of us not blessed with her decidedly green thumb. For more information on Tina's lovely work, contact her through her business, Gardens On The Go/Container Garden Design, at tina@gardensonthego.com.
Container gardening continues to be one of the strongest trends in gardening. For many people who have limited time and space for an actual garden, the possibilities are endless. There are hundreds of plants to choose from as well as pots.
Here at Gardens On The Go, we take the guess work out of container gardening by offering many types of container combinations, from annuals mixed with vegetables, perennials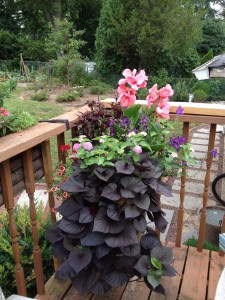 , even trees and shrubs, to the to the latest trend, container gardening with succulents.
As we head into the summer months, there is still plenty of time to get out and garden. Containers can be added to your outdoor space any time during the season. Here are a few ideas to consider when designing container gardens.
Successful container gardening consists of three major components, "Thrillers," "Fillers," and "Spillers"–the the 3 divas of container design.
Let's begin with a "Thriller." This is the plant that is your main focal point of the container providing dramatic height. Some of my favorite focal plants are Angleonia, 'Angelface' blue, Salvia, 'Black and Blue', Cana and ornamental grasses, for sunny spots. If you have shade, tropicals make the difference, such as Palm, Cordyline and Caladium. Lets wave so long to the old, sad Dracaena spike and kick it up a notch with a little drama!
Next, are the "Fillers." Now, who can't use a little filler here and there? This group of plants provides an integral design element that is missing in most container gardens. It fills the space between the thriller and spiller. Some of my favorite fillers for the sun include, Geraniums, upright Lantana, and African Daisy. Shade loving fillers include Tuberous Begonias, tropical ferns, Impatiens, and Coleus. Use two fillers in your container garden for instant gratification.
Finally, rounding out the threesome are the ever popular "Spillers." The spillers give a dramatic cascade flowing down the front of the container, much like an elegant waterfall. The most popular spillers for the sun include, Petunia "Supertunia," Calibrachoa, "Million Bells," Potato Vine and Verbena, just to mention a few. Shade loving spillers include English and Algerian Ivy, trailing Torenia, and for some color, Potato Vine and Bacopa. Add 2 to 3 spillers depending on the size of the container.
Once you choose your three "divas," you are ready to plant. Always choose a container with drainage that's large enough to accommodate your selections. An ideal size range for the deck or patio is 12 to 14 inches. Always use quality potting soil and fertilize once per week. Then sit back and enjoy the beautiful blooming gardens you created all summer long!
Tina Sottolano-Cain is a professional horticulturalist who has worked in the garden center industry for 16 years. While earning her Bachelor of Science Degree in Horticulture at Temple University Tina developed a strong passion for small garden design with a emphasis on container gardening. It was then the concept of Gardens On The Go was born. While working in the industry at highly competitive garden centers cultivating and perfecting her craft, in 2010 she started Gardens on the Go as a creative outlet.
Gardens on the Go is an interior/exterior plantscaping and consultation firm that also produces educational workshops and seminars for the masses.
Email Tina at tina@gardensonthego.com.