By: Chrysa Smith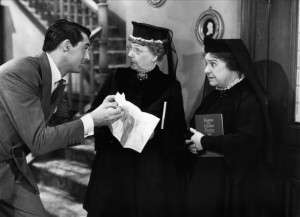 How do you make two spinsters from the 40's relevant in 2014? You remake them, which is just what the producers did in the latest version of Arsenic and Old Lace.
Truth be told, I wasn't too excited about going to see the old show. Well, maybe if Cary Grant was still around. But I've been there, seen that. However, it was one of the shows in the theater subscription plan. And I must say that I was pleasantly surprised to find myself engaged, laughing, curious and very much entertained, watching the antics of a couple of old ladies.
Charismatic casting and some modern day humor does wonders for older shows. It infuses just enough 'new' to make the story seem like you are seeing it for the first time. If you missed the high school productions, Arsenic and Old Lace is the story of two spinster sisters who live together and share a great many things. Their love for church, their family and taking lonely men out of their barren existence by offering them a taste of their homemade elderberry wine. Wine with a kick, you might say. It's got just the right mixture of arsenic and strychnine that can knock a guy out and right under the window seat where the first victim was discovered by their nephew.
The story turns into a comedy of errors, as the young, engaged nephew discovers that this isn't the first nice gentleman to fall prey to some 'bad' wine. In fact, there might be closer to a dozen. And they're buried in the basement. So, being a good boy, he tries to protect his aunts from the law, the dead from being discovered and the police off the case, as the church-going, tea tottling ladies go about their business. But when the black sheep of the family shows up, life turns even more upside down, as he's got a few secrets of his own.
If you haven't seen it, do.
If you haven't seen it in some time, see it again.
If you haven't seen who's poured your wine, do ask. If it's elderberry, think twice.
Arsenic and Old Lace is playing at The Walnut Street Theater in Philly for another ten days.