By: Chrysa Smith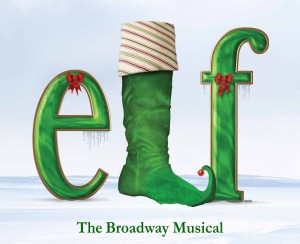 What do you do with a life-size human raised as an elf?
Not really sure. Actually nobody is. And this conundrum is exactly the jumping off point that begins the Broadway musical Elf.
Buddy the Elf just doesn't fit in—literally. Not only is he large in scale, he just doesn't have the elf gene that allows for record toy production. So when the big guy in the red suit lets Buddy in on the truth—that he is indeed a human, Buddy sets out on a journey to find his family of origin. Well, his father to be exact.
So Santa points Buddy toward NYC, where his father works in The Empire State Building. Only, as you may imagine, his dad is less than thrilled to learn the news. After a stint as an 'elf' in Macy's seasonal shop, a little modern day lab work  ascertains that Buddy and this man do share a genetic connection and Buddy is accepted, if not embraced.
As with all good stories, there's a twist and an endearing action. As a typical workaholic, the father places his wife and son after his pressing job. But when the father is faced with producing the next best-selling children's book at the publishing company he works for, after all the inconvenience, the havoc, the chaos that Buddy has brought into this family's life, Buddy comes to the rescue with a pseudo-non-fictional tale that saves the day. Buddy is embraced, the father learns what's really important and ends up owning his own publishing company, working with both sons.
Lots of laughs, irony, holiday spirit and lively tunes that shine down smiles on audiences. It's playing at the Walnut Street Theater in Philly right now, but if that's not your locale, you can also see Elf, the movie. While it's hardly new, I've never seen it, and with Will Farrell playing Buddy, well, it's gotta tickle even the smallest funny bone.