By: Mary Fran Bontempo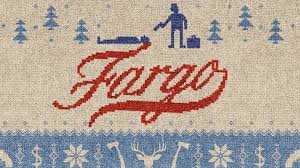 Billy Bob Thornton is one weird dude.
If you weren't convinced by Billy Bob and former wife, Angelina Jolie, wearing vials of each other's blood around their necks, well, tune into the new FX series, Fargo. There won't be a doubt in your mind.
Inspired by the Coen Brothers' 1996 movie of the same name, the series takes place in Bemidji, Minnesota, and as in the film, the setting is a character in itself. Populated by folks to whom "nice" is almost a religion, the murderous going-on among the locals seem incongruous, at best. Yet, beneath all of that nice is an occasional vein of simmering rage, and all it takes is the appearance of Billy Bob to open the door and let it out.
Mild-mannered Lester Nygaard (a spot on Martin Freeman) finds himself taunted on the street by former classmate and high school bully, Sam Hess, landing poor Lester in the emergency room, where he encounters Thornton in the person of Lorne Malvo, a stranger in town who likewise ended up in the E.R. after his car skids off the road. The fact that the car contained a near-naked captive in the trunk is a detail Lorne doesn't bother to share.
Before long, Lester is sharing his humiliation with Lorne, who urges Lester to act. Or just say the word, and Lorne will act for him. An off-handed "yes" sets in motions a series of events resulting in the murders of Hess, Lester's wife and the local police chief.
What follows is a dogged attempt to untangle the mess, as ambitious young deputy, Molly Solverson (Allison Tolman, perfectly cast), tries valiantly to follow her instincts, all the while being thwarted by acting police chief, Bill Oswalt, deftly played by Emmy winner, Bob Odenkirk, who simply can't fathom that mild-mannered Lester had anything to do with the crimes. (He did.)
Like the movie, the show is dark, funny and fascinating all at the same time, and completely summed up by the character and performance of Thornton, who is, as one critic noted, "mesmerizing." Lorne is creepy, menacing, witty and more than a little skilled at homing in on people's darker impulses and compelling them to act on them. He's a modern-day devil in the flesh, and when he's on screen, you can't take your eyes off him.
Written as a ten-episode limited series, Fargo is fascinating, and continues FX's run of unique shows, including American Horror Story, Louie, The Americans and Wilfred, among others. Catch up on previous episodes online and don't miss the remainder of this quirky, one-of-a-kind "nice-fest," with a side of murder, and weird Billy Bob Thornton, of course.
Take a look at the first seven minutes of Fargo, below.