By: Mary Fran Bontempo
To hear an audio version of this post, click the play arrow below.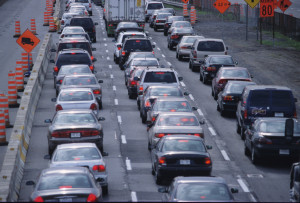 Owning a car is one of those things we Americans equate with freedom.
Being able to jump in the car and get to work, run errands or just drive and enjoy this great country of ours is a gift. Unless it isn't.
Sometimes having a car is a ticket to the land of obligation. You have a car, so there's no excuse to not get stuff done. Get to work, get to the grocery store, don't forget to pick up the dry cleaning, remember the pharmacy and the bank, the lawn mower needs to be picked up from the repair guy, the dog has to get to the vet, blah, blah, blah. Suddenly, freedom doesn't look all that free.
Last week, I found myself "stranded" at the shore without a car. When things worked out so that everyone was leaving, and I could have gone along, I opted instead to stay behind, "stuck" at my little beach house with nothing but my bike to get me around.
And it was heaven.
I biked to the beach, of course, and I biked for the sake of biking alone, but I also did a few errands. The necessary ones. I went to the grocery store, buying only what I needed for the day and what would fit in my bike's basket, all the while feeling very European in the process. I biked to get a cup of coffee in the morning–not necessary, but very enjoyable. I biked back to the bay to watch the sunset.
And then, I just stayed home. I worked, writing and attending to computer stuff (which is what I call everything else besides actual writing), I read, I talked to the dog, I talked to my neighbor, I watched TV, I did some laundry, I mowed the lawn, I tied up my tomato plants, I took out the trash, I read some more, I watched TV some more…I did lots of stuff that people at home without a car do.
And you know what? I felt free. Free from the obligation to "get stuff done." Interestingly enough, I did get stuff done, stuff that I enjoyed doing. Nothing grandiose, but that was fine, because no one was around to see what I wasn't getting done but me.
It made me think about all of the things we surround ourselves with that are supposed to enhance our lives and give us so much more free time.  All the things that really end up being giant time sucks because we use them to squeeze ever more stuff into the 24 hours we're each allotted in a day.
So this July 4th, I'd like to suggest that we all embrace a little more personal freedom–from the obligations we've attached to our every moment thanks to all of the stuff we have that's supposed to make life easier. Spend a day without getting in the car. Have the kids hide the keys if you have to. Get everyone, or just yourself, on a bike and take a ride. Or take a walk and actually look at your neighborhood. (Do you have any idea what color the house three doors down is?) Or just sit and do nothing for a change.
Sometimes it takes losing some of our "freedoms" to find out how it feels to be really free.
Happy Independence Day!