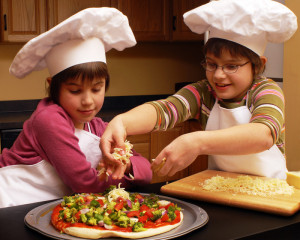 I know, I know. There are some people who tune right out when I talk about food and cooking. Well, cooking anyway.
But what if I told you about a way to have some fun in the kitchen? (No, not that kind). The kind where you're adorned with an apron and a spoon. You're in a nice, warm place over an open fire and you're smelling some of the best possible aromas—frying onions, garlic, wine, tomatoes. And you don't even need an ounce of talent.
Then welcome to the kitchen classes at Villa Barolo on Easton Road  in Warrington, PA. Every couple of weeks (except for summer), the chef/owner takes a group of unsuspecting amateurs, dresses them in white apron and hat and leads them through his active kitchen. While there, you'll be equipped with tongs and whisks, as he explains what you're cooking, then hands-on help with how to do it. Mark and I were there Monday night. Along with another couple, we worked in pairs preparing the night's entrees—penne vodka and chicken with prosciutto and wine, topped with mozzarella cheese in a tomato demi-glace. Sounds complicated?  Not a bit. Delicious? Absolutely.
We began with long hots (stuffed peppers). I'm usually not a big fan, but I jumped right in, stuffing the little suckers with a mixture of veal, bread crumbs soaked overnight in milk, some veal stock and seasonings. He took care of sautéing them. Now I'm happy to do all of the prep work, but this night, the chef dredged the chicken, seasoned it, sprinkled some oil in our pans as we placed the cutlets into the hot pans. He added a little stock and watched over us, making sure nothing would go awry. After they were well cooked, he placed a combo of prosciutto under a slice of mozzarella and added it on top. We cooked some more until the cheese melted. Voila.
Next, the men sautéed prosciutto in a pan, added heavy cream and vodka, while the chef cooked up the ziti al dente. He portioned them out while the men stirred away, until the pasta was coated. Everything was plated with our name tags attached to plates, and we were led to a long dining table, where we were presented with our final dishes. Then it was mangia!
There's nothing like cooking with and sharing a meal with others. It truly is one of those places where life and connection happen. And in this case, we all happened to be in the same boat—doing it all together. If you can stand the heat, check out a cooking class at one of your local restaurants. It's a great evening out, way to enjoy the kitchen, prove your kitchen skills and have dinner all at the same time.