By: Mary Fran Bontempo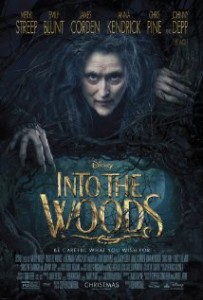 "Into the woods and out of the woods…and happily ever after!"
When my middle child, Laura, was young, she saw a PBS version of the Stephen Sondheim musical, Into the Woods, which I taped for her on VHS. (Shows how long ago that was.)
If she watched the show once, she watched it 500 times. To put it in a modern context, Into the Woods was Laura's Frozen.
And as with today's parents who can sing every word and note from Frozen in their sleep, I can to this day do the same with the songs from Into the Woods.
So it was with great anticipation that I went to see the movie version last week with my younger daughter, Megan, who was a bit too young to appreciate the play when Laura was glued to the television, but still has fond memories of the show's music.
Some highlights–Meryl Streep, who gleefully inhabited the witch. I had my doubts about la Streep, given that Bernadette Peters so owned the role on Broadway. But Meryl was wild, wicked and more than a little unhinged–a perfect foil for the other characters in the show.
Equally unhinged was Johnny Depp in the role of The Wolf, who consumes Little Red Riding Hood and her granny. Depp tends to be a Johnny one-note of late, phoning in performances that are slightly tweaked versions of his looney and brilliant Jack Sparrow, but here, his evil wolf is rightly campy and villainous.
Doe-eyed and beautiful Emily Blunt is excellent as the Baker's wife, as is diminutive Anna Kendrick as Cinderella. And Chris Pine as Prince Charming–hilarious. In fact, I'm hard pressed to think of a performance that wasn't spot on in the show.
And yet, something was missing. Into the Woods is a riotously funny play, but much of the humor was downplayed in the movie, perhaps to bring home the themes of love, loss and being careful what you wish for. (One exception–the overwrought number sung by the two brother princes about their respective loves–truly laugh out loud.) If you're familiar with the play, the film, despite its excellent performances and lush photography, can leave you slightly underwhelmed.
But it is exquisitely rendered and I'd see it again. Even though, as the witch reminds us after one character confidently states that "All will come to a happy end," that's "not always" true.
Check out the trailer, below and see Into the Woods now playing at area theaters.