By: Mary Fran Bontempo
James Spader is one creepy dude.
I've never been a great fan of the actor, mainly because he specializes in portraying off-the-wall, and sometimes downright menacing, characters. The fact that he makes me uncomfortable really just means that he does his job extremely well.
Spader extends his creepy, menacing streak with his latest endeavor–The Blacklist, airing on NBC Mondays at 10 PM. The actors stars as Raymond "Red" Reddington, a rogue government agent who's spent several decades aiding criminals on a global front and now mysteriously surrenders to the FBI. He offers information to catch the very bad guys he's been helping on one condition: He will only speak to newbie Elizabeth "Liz" Keen (Megan Boone).
Keen has her own issues, mostly unbeknownst to her. She has no idea why Reddington has singled her out, but finds herself engaged in a high stakes chase to thwart a terrorist with Reddington providing guidance. When the terrorist shows up at her home, torturing her husband and asking Liz for information before disappearing into the night, she frantically confronts Reddington, who insinuates that she may not know her husband as well as she thinks she does.
By the end of the first episode, a dirty bomb strapped to a kidnapped little girl is deactivated, the bad guy is dead and Liz does indeed have questions about not only Reddington, but her husband, who she discovers has multiple passports and a gun hidden in a box beneath the floorboards of their home. For his part, Reddington is only too happy to continue his offer to "help," the FBI, provided, of course, he can work with Keen and be put up in luxury accommodations.
The show is gripping, exciting, and makes you want to know more. I still don't like James Spader. But it's because he's so good at being bad. The Blacklist: "must see" TV.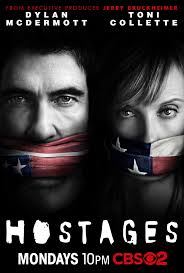 Of course, there is a "but," and it comes in the form of Hostages, CBS television's offering at the same time.
Starring Toni Collette as a Washington surgeon about to operate on the President of the United States and Dylan McDermott as an FBI agent who takes her family hostage instructing her to kill the President during surgery, the show is full of twists. As with any compelling mystery, nothing is exactly as it seems.
I spent the 10 o'clock hour Monday night flipping between The Blacklist and Hostages and saw enough of Hostages to make me want to catch up with the show, which I'll watch on demand.
Both programs grab you and won't let go and I'm not sure which one will have me still tuning regularly by season's end. Either way, at least there's something to look forward to on Monday nights that doesn't involve washed-up celebrities dancing. That's a very good thing indeed.