By: Mary Fran Bontempo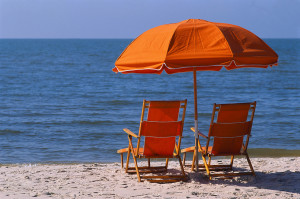 When you're blessed to have a home at the Jersey shore, it's hard to think of any other way to spend the Memorial Day weekend than at the beach. Even if the weather is on the cool side, as predicted this weekend, the lure of the ocean is like a siren call. Try to resist. I dare you.
But in the aftermath of hurricane Sandy, many travelers–week-long vacationers and day-trippers alike–are wondering just what kind of lasting damage Mother Nature may have wreaked at the beloved Jersey Shore.
The answer is a bit of a mixed bag, with some shore towns still in the throes of rebuilding, but for the most part, the Jersey shore is open for business and waiting to welcome visitors with open arms. And while I'm not too familiar with towns north of Atlantic City, I can give a pretty good run down on places from A.C. to the cape at Cape May.
Personally, I've always been partial to Ocean City, having spent the last 23 summers raising my kids in the family oriented town. From beautiful beaches to boardwalk attractions, from Manco and Manco's Pizza (yes, they changed the name last summer, and though it sounds foreign to the native ear, the pizza is still awesome) to Johnson's Popcorn, from Night in Venice to the Baby Parade, Ocean City kept us coming back summer after summer with plenty to do or doing nothing at all, our choice.
Yet, O.C. (named by the Travel Channel as America's best family beach town in 2005) is but one town that's a member of a large, extended family, with characters of all ages and temperaments, with every Jersey Shore town along the Ocean Drive, from the beckoning casinos of Atlantic City, to the quaint streets of Cape May, offering vacationers a combination of anything and everything.
The obvious attraction of Atlantic City is the casinos, which offer round the clock fun and entertainment to gamblers and non-gamblers alike. The beach bars, shopping and even more entertainment and dining options have upped A.C.'s appeal to the non-gambling set in particular. Like a favorite, fun-loving uncle, Atlantic City can always be counted on for a good time and maybe a little craziness as well.
The towns next in line, Ventnor, Margate and Longport, are the elder statesmen of the shore family. With elegant, old seaside homes perched on relatively quiet neighborhood streets, these three seaside retreats offer old school charm punctuated by legendary attractions like Lucy the Elephant and legendary watering holes like the Geator with the Heater's Memories in Margate.
Next up on the trip south is Ocean City, sandwiched in the middle between the twinkling nightlife of A.C. and the funky, honky-tonk vibe of Wildwood. A "dry" town, Ocean City is an apt reflection of the young family, the ideal destination for the kiddies with young moms and dads in tow.
The college set will find itself well represented and welcome in Sea Isle, where darkness brings out some of the best local bands around to clubs fortuitously located well within walking distance of one another. Casual neighborhood eateries keep things affordable for the young adults.
Avalon and Stone Harbor join the family as the well-heeled sisters of the shore. Large, spacious homes share the streets with an upscale shopping district and a protected Wetlands Institute that offers varied educational programs for those with an interest in preserving our precious coastline. Anyone with a taste for the finer things as well as long stretches of sandy beaches can count on these two beauties to deliver the goods.
And then we have Wildwood, the quirky family member who marches to its own unique drummer. From huge stretches of beach to a boardwalk loaded with exhilarating rides and carnival games, to a myriad of restaurants, bars and clubs, Wildwood lives up to its name as the fun-loving "wild child" of the Jersey Shore. Just try not to have a good time here.
Cape May rounds out the dynasty like an exquisitely outfitted matriarch. Around every corner waits another Victorian architectural jewel waiting to be discovered and admired.
So on this Memorial Day weekend, come and visit the Jersey Shore. And if you can't make it this weekend, be sure to visit this summer. The Jersey Shore is blessed with an entire family of towns offering a smorgasbord of vacation retreats.
And it's open for business!