By: Mary Fran Bontempo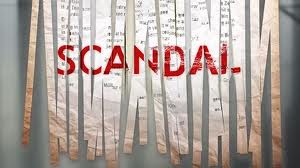 It's absurd, it's overwrought, it's unbelievable, it's engrossing, it's exciting, it's addicting.
It's Scandal, which began season three last night at 10 PM on ABC.
I started watching the show last season at the behest of my daughter, Laura, who was hooked early on. For the uninitiated, Scandal stars the lovely Kerry Washington as a high-powered Washington, D.C. "fixer" with direct ties to the president. Washington's Olivia Pope is by turns ambitious, steely, emotional and most definitely flawed. But she gets stuff done, along with her team of "gladiators"–talented, also ambitious, also flawed and devoted to their leader. (At least they were last season. With Scandal, you can never tell.)
Pope's professional life is more than a bit complicated by the fact that she's having an on again-off again very steamy affair with the president. Yes, that president–of the United States, played by Tony Goldwyn. And talk about flawed, this guy is a basket case, which does little to calm the nerves of those watching and wondering, "Does this stuff really happen?"
In the real world, I hope not, although versions of it likely do. But for a perfect Thursday night pot boiler that delivers intrigue, back-door dealings and hot, sexy romance, you can't beat Scandal.
If you're a Scandal rookie, check out this post and get caught up. Then, come next Thursday, grab a glass of wine and some munchies and prepared to be glued (really, you won't even want to get up to pee) to your TV, as Olivia Pope and her team handle, or possibly create, the next Washington Scandal.