By: Chrysa Smith
[fusion_builder_container hundred_percent="yes" overflow="visible"][fusion_builder_row][fusion_builder_column type="1_1″ background_position="left top" background_color="" border_size="" border_color="" border_style="solid" spacing="yes" background_image="" background_repeat="no-repeat" padding="" margin_top="0px" margin_bottom="0px" class="" id="" animation_type="" animation_speed="0.3″ animation_direction="left" hide_on_mobile="no" center_content="no" min_height="none"]
Once Memorial Day hits, it's time for the aahhs.
The warmth. The sun. The cooling leaves.  And the promise of a few months  of kicking back, grabbing a cold one and enjoying nature's bounty. Aahh.
So this Memorial Day, we sat on the deck overlooking this very pretty waterfall and sipped our drinks–in the morning; in the evening. It was just one of the lovely attributes of time spent at Ledges–a very cool, contemporary dwelling in the midst of the rural Pocono Mountains.
From the outside, it's quite deceptive. Housed in an old Bluestone glass cutting factory, the only relevant remnants are the in-house bistro, appropriately called Glass, and the re-purposed wood and other items from the original structure. Inside, it's pure 21st Century. Simplistic, clean, white, gray and wood. It's hip. It's trendy. It's a place I'd visit again.
[/fusion_builder_column][fusion_builder_column type="1_1″ background_position="left top" background_color="" border_size="" border_color="" border_style="solid" spacing="yes" background_image="" background_repeat="no-repeat" padding="" margin_top="0px" margin_bottom="0px" class="" id="" animation_type="" animation_speed="0.3″ animation_direction="left" hide_on_mobile="no" center_content="no" min_height="none"]
Located in Hawley, Pennsylvania, the town was once a vibrant community, courtesy of the railroad industry and hydro-electric power. The waterfall from the gorge pictured here was a source of power for the glass cutting biz. And just above it, to the right of the falls, sits another Bluestone building—largest in the state–once home to a silk factory.
The factories are silent, which I find very sad in so many towns. But as they say, to everything there is a season, and a new season has opened in recent years, as new businesses have been birthed in these historic places. Ledges is but one of them. Their sister property, The Settlers Inn, is another. Polar opposites in decor, but wonderfully similar in good taste and elegance. An Arts & Crafts inn, The Settlers provides a beautiful backdrop and some award-winning cuisine in a quiet PA town.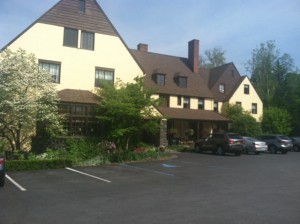 The property is near Lake Wallenpaupack, where sightseeing boats leave the dock hourly and a few cute towns are within less than an hours  drive. If you'd like a day or two when absolutely nothing needs to be done and tranquility is in order, take a look at Ledges http://ledgeshotel.com/and their sister property, The Settler's Inn.http://www.thesettlersinn.com/.  Aahh indeed.
[/fusion_builder_column][/fusion_builder_row][/fusion_builder_container]