By: Mary Fran Bontempo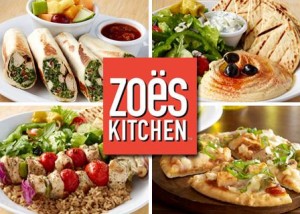 "If it wasn't food 100 years ago, it isn't food today."
Now that's quote-worthy. And it's the motto espoused by Zoë Cassimus, the brains behind the cooking at Zoe's Kitchen, a from-the-south restaurant franchise that's fast making its way around the U.S.
But it's not American cooking you'll find at Zoe's. At least not American cooking as it often appears today–fried, processed and generally unhealthy. Zoe's offers "Mediterranean-inspired food, where grilling is the predominate method of cooking along with an abundance of fresh fruits and vegetables, fresh herbs, olive oil and lean proteins," according to the website. Gluten-free, vegetarian and vegan options are also available.
A recent trip to a Zoe's Kitchen in Newtown, PA, with fellow-blogger, Chrysa Smith proved a delicious and different lunch time experience, one where "healthy" didn't mean "tasteless." With a concept similar to that of another local franchise favorite, Panera Bread, Zoe's presents a casual dining experience that's fast, but not drive through, french fry fast. In fact, when you enter a Zoe's, you'll find nary a fryer or microwave in sight.
That's because freshness and quality preparation is important at Zoe's, as is flavor. My meal choice of a chicken kabob with a side of roasted veggies was delicious, as was Chrysa's Greek salad and roasted veggie flatbread. Soups, salads, sandwiches, and more elaborate dinner entrees round out an enticing menu.
Plus, Zoe's won't break the bank, with many offerings priced at less than ten dollars. The ordering/delivery process is painless, too, as you place your order, pick up a small numbered sign that sits on the table and receive your meal delivered to your table when it's ready.
Zoe's claims that its Mediterranean styled menu can "Help lower cholesterol, help weight loss, improve rheumatoid arthritis" and even "reduce the risk of developing diabetes, Alzheimer's disease and even various types of cancers," as well as "help ward off heart attacks, strokes and premature death."
That's a tall order, but fortunately, it's not the only reason to eat at Zoe's Kitchen. The main reason? It's just good eats, reasonably priced and served in a pleasant atmosphere. Good enough for me, but the healthy stuff matters, too, especially when it's yummy.
Check the website for a Zoe's Kitchen near you.