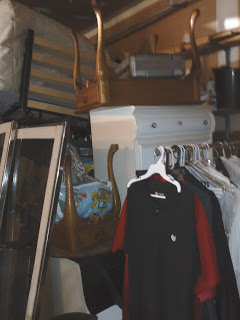 By: Mary Fran Bontempo
We're bursting at the seams.
It's not news that the Bontempo household is stuffed. Stuffed full of the stuff that comes with five adults living in a domicile holding the accumulated lifetime belongings of those five people.
My husband and I raised our children here, so there's never been the clearing out that comes with a move; we've got 28 years worth of our children's detritus here along with our own. Additionally, all three kids left home for college–and then came back, bringing, you guessed it, more stuff.
In fairness, I could have disposed of much of it, but I'm one of those moms who looks at a college desk lamp and says, "Oh, we'll save this for when she moves out," as if any kid wants to take their college desk lamp anywhere after bringing it back from college.
But save things I did, always with the "when they move out" caveat in mind, never thinking the day would actually arrive.
So when my daughter, Laura, announced a few months ago that she was moving to Florida, I thought, "Halleluiah! I can finally get rid of some of this junk!" And I started plotting.
The bath rugs and shower curtain I jettisoned for newer versions recently–Florida bound. Ditto the toothbrush holder in the shape of a beach umbrella. Appropriate, don't you think? The extra kitchen supplies, including bowls, knives, spatulas and at least 20 percent of my container supply, out the door. Same for the mandolin slicer my mother bought Laura for her birthday one year. I think she's the only 12-year-old ever to get a slicer for her birthday. Weird kid. Weirder grandmother.
Buh-bye to the tiki salt and pepper set Laura brought home from some trip that ended up in my kitchen. And so-long to the extra sets of towels and sheets that could have been tossed but instead have been cramming the linen closet for years, just waiting for another use.
We're shipping out a TV, small dresser, assorted candles and wall art plus a lamp or two. (Probably not the college desk lamp, but I may try to hide it under the front seat of her car.) And of course, there are the clothes and shoes. By my estimation, once Laura gathers her personal items, the house will be approximately 413 pounds lighter.
I'm delighted with the prospect that I may finally be able to see the garage walls again, or at least part of them. And I'm glad the beachy shower curtain and toothbrush holder will find another happy home. In fact, this clearing out is great–almost.
If only my daughter didn't have to go along with the stuff.
(Yes, usually I record this column, but I'm pretty sure I wouldn't have gotten through this one without a tear or two, so maybe next week. And I also always ask for comments, but Laura left today, so there's nothing left to say. Of course, a a visit to sunny Florida may help my mood; will keep you posted!)