By: Mary Fran Bontempo and Guest Blogger Jeanne Rihm

"Are you in a fashion rut? Is your closet filled with old, dated clothing? Perhaps you have either lost or gained weight and you don't know how to dress for your body anymore. You have the right to feel good, be confident and look great! You can be (appropriately) sexy, and sophisticated at any age. It doesn't matter what size your clothes are, it is the cut and silhouette that make all the difference!"
NRFGP friend and personal fashion stylist, Jeanne Rihm, of FashionJeanne (pronounced "Fashion Genie"–just love that name!) knows what she's talking about. Jeanne's business is making women feel and look fabulous, no matter the sizes—of their budgets or bodies.
Today, Jeanne's going to give us her take on that most dreaded of all female apparel—swimwear. (Are you breaking out in hives, yet?) Jeanne majored in Design and Merchandising at Drexel University and worked for Bloomingdale's in NYC as well as Lauren, by Ralph Lauren. She knows fashion and adjusts silhouettes, colors and styles to complement a woman's figure. As Jeanne says, looks do make a difference. "I have seen confidence grow when women (finally) realize they can wear fashionable styles, or particular colors.  Their posture changes, their attitude changes, there is a new kick to their step…they feel amazing!"
Now be brave and read on for Jeanne's advice; swimsuits aren't as scary as you think!
By: Guest Blogger, Jeanne Rihm
It's not too early to talk summer, or swimwear.  By now, after months of hibernation, you're likely feeling a shade paler than a baby's bottom.  Pull out the self-tanner and let's think warm days, blue seas and swimwear; it's coming!  Hopefully the following info will ease you into the warmer season with confidence.
Swimwear for Every Body-Type
Swimwear shopping is a daunting project. I don't know many women who enjoy shopping for bathing suits.  Each year I know I cringe; not wanting to try anything on, revealing all of my imperfections –and yes, we all have them. However, breaking it down into a few steps makes it easier. 
1.  Know your body shape.  Here is an excellent article to help you determine just that. Read the post and if you're still not sure what body type you are, click on the "Quiz: what's your body type" button. (You do have to sign up for the quiz, but it's worth it.) 
http://www.youbeauty.com/body-fitness/somatotypes-and-body-type-guide 
2.  Allow yourself enough time to shop for a swimsuit. It takes patience and it could mean one or two trips to the store, and you may try on many suits.  Prepare yourself, knowing you can't just "run-in" the store. 
3.  You get what you pay for!  Yes, you can find less expensive swimwear.  It will most likely bunch in the wrong places and make you bulge or pucker in all the other places. More expensive swimwear will fit your body better, and it will last over more seasons (as long as you take care of it).
4. This link to Glamour.com shows you different body types and actual swimsuit suggestions. It may be helpful in your search for the perfect suit.
http://www.glamour.com/fashion/2010/05/how-to-find-the-sexiest-swimsuit-for-your-body-shape#slide=1  
Suits That Make a Difference
Rialto by Miraclesuit combines Lycra Spandex and Nylon for a figure-flattering look.  The ruching around the waist puts your curves to work and shows them off in a very tasteful, modern, attractive way. It does cost $170.00, but I know this will last for several years and you will feel beautiful in it! It really is an investment for your mind as well as your body. You can find this at Nordstrom's, www.CybeSwim.com, and Macy's.  Sizes from 16W-24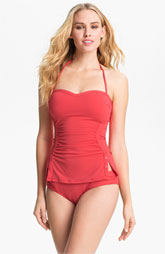 The next suit offers a two-piece option and also has the ruching with a piping-seam down the torso. This detail enhances (in a good way) the waist and hip line; while at the same time camouflage the areas that need it.
Robin Piccone, style number 628572.
Top $98.00, Bottom $54.00
Can be found at Nordstom's or www.everythingbutwater.com
Finally, remember, don't be hard on yourself! With a little time, patience and investment, you can find a swimsuit that fits and makes you feel great. Go for it—you deserve it!
Jeanne can help with all of your fashion questions. Email Jeanne at Jeanne@fashionjeanne.com and be sure to visit her website at www.fashionjeanne.com!