By: Mary Fran Bontempo
First off, don't forget tonight's Bucks County Illustrators' 2013 art show, featuring NRFGP own Pat Achilles, along with other wonderful artists. At the Pearl Buck Estate from 7 to 9 PM. See Pat's post on the show here!
Now scroll down for more entertainment stuff!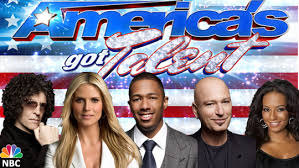 It's summer and of course, the season of the blockbuster in theaters. Coming out in the next few weeks are the films The Heat, starring Sandra Bullock and the hilarious Melissa McCarthy in a female cop buddy movie, and The Lone Ranger, featuring Johnny Depp and Armie Hammer as the famous Western buddy duo.
And I plan on seeing both movies (watch for future reviews). But summer is really the time for my televised guilty pleasures–the shows I hate to admit watching, but just can't get enough of.
First up is America's Got Talent, featuring the incredibly annoying Howard Stern as a judge. What gives a guy with no real talent the right to judge other people's talent is beyond me, but apparently, the narcissistic loudmouth draws viewers. This year, Heidi Klum and Scary Spice (Mel B.) join the already entrenched Howie Mandel and likeable Nick Cannon to round out the celebrity portion of the show.
But AGT is all about "regular" folks stepping up onto a stage and going for their big break. You can't help but cheer for some–seriously, where did Forte, a group of three amazing singers who just met weeks ago, come from?–and jeer at others, like the nitwit who stuck a scorpion in his mouth and then got bitten. It's always entertaining and usually features at least a few acts in every show who leave your jaw on the ground. Tune in all summer for the fun: Tuesdays at 9 PM on NBC.
And then there's So You Think You Can Dance, a personal favorite of mine since I'm a dance mom. Or rather, I was one, for years, while my daughters pounded their way through competitions and recitals as I frantically mended costumes and cheered them on from the hard seats in countless school auditoriums.
SYTYCD elevates dance to another level, though, featuring amazing choreography in every style imaginable and the best young dancers around. It's made me a huge fan of contemporary dance and every week, at least one routine leaves me breathless. If you enjoy Dancing With the Stars, you must see SYTYCD. It's what raw, young dance talent looks like. Just amazing. Tuesdays at 8 PM on Fox.
When it's too hot to venture outside, grab some ice cream and catch up on AGT and SYTYCD–because summer's the time for guilty pleasures.