By: Mary Fran Bontempo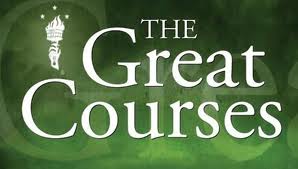 It's freaking freezing outside. And it snowed again this week. A lot. All of which means we're spending tons of time inside, watching movies, staring stupidly at mindless television and gazing slack-jawed at our phones and tablets.
It's enough to cause a case of brain freeze, and not the kind brought on by slurping down ice cream, which offers at least a small dividend for the pain.
No, this brain freeze amounts to your brain virtually freezing, from lack of use.
But there is a solution. The Great Courses is having a sale.
Founded in 1990 by Tom Rollins, who came up with the concept after viewing videotapes by a top-notch lecturer while in law school, The Great Courses offers classes taught by the top one percent of college professors, selected entirely for their ability to teach. Classes are set in a course format, as available at any university.
But there's no homework. No tests. In other words, no pressure. Just learning for the pure pleasure of learning.
The subject matter ranges from courses in science and math (Understanding the Brain, The Joy of Mathematics) to religion (The New Testament), to art (Museum Masterpieces: The Louvre), to gardening, fitness and music. This year, the Better Living category even offers a cooking class–The Everyday Gourmet: Rediscovering the Lost Art of Cooking.
Each course consists of a series of lectures available on DVD, video, or audio CD, which can be watched or listened to at your convenience. And did I say there were no tests? Plus, once purchased, the classes are yours–available for watching again and again.
Sure, there's plenty of stuff for free on You Tube. And if you're interested in having a 12-year-old explain how to build a website, go for it. But for a small investment, you can have expert teachers instruct you in a myriad of fascinating topics right in your own home, car, or even office, when the boss isn't looking.
And with any luck, when we finally reach spring, your brain won't have to thaw out, too.