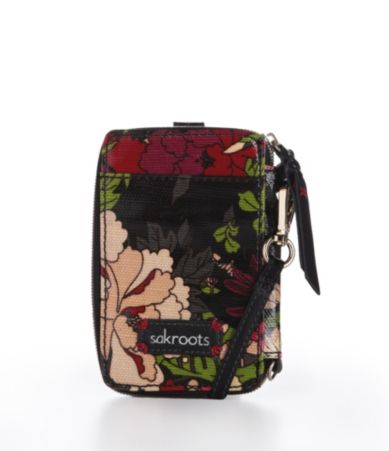 by Chrysa Smith
My wallet just died.
It was one of those knock-off Louis Vuitton jobs—the white leather with the crazy, colored logos.
I never really picked it out. It was a little flashy for my style, but it was a thoughtful gift from my husband's friend who travels to the Far East way too often to not bring back some treasures –right out the back door of the factory. It was one of those check size wallets with lots of compartments, all zipped up and protected. But the problem was that all of the stitching, glue or whatever holds the credit card slots in place fell apart. So the MasterCard wound up near the Wegman's Grocery savings card. The AMEX was near the license. Well, you get the idea. Wallet chaos. So I ventured to the store today and am excited about what I found. A wristlet.
I don't know about you, but when I hear the word wristlet, I go back in time to those b/w movies, maybe Audrey Hepburn. It's something that went with ladies to weddings and proms that was a little less cumbersome than a purse. It probably held a lipstick, comb and compact–oh, and a few tissues for blotting. But today's wristlets have powered up and scaled down—-bright, colorful leather cases that fit your license, credit cards, bills, change and even your cell phone. And this all gets zipped up in a tidy little rectangle with a wrist strap for easy handling.
Mine is from a company called Sakroots. It may sound familiar. It's from the family of Sack bags that have been around for about two decades. You might even own one. And it drew my attention because the printed leather is just beautiful. It's totally girly or artsy or contemporary. And definitely fun. The design is great, as the credit cards stack on top of each other vertically; the bill slot horizontally. And there is a special front slot for your license, so no digging. But one of the best things for me is an outside pocket for a cell phone—one with a strap and snap. And get this: they make matching cell phone covers, so your phone/wristlet can be all so matchy cool.
When I logged onto the company site, I found that they are proactively conscious of the environment and employ the designs of several artists. I just love to support companies that make unique items, are based in the US (even if product components come from overseas), employ creative people and produce a product that I won't see in everyone's purse. Plus, I can now eliminate the big purse on runs to the gym or the grocery store.
We get so use to carrying the same purse or always a purse. But for those on the run, a wristlet may just be a big load lifted off your shoulders.
Check this manufacturer out at: www.sakroots.com.
Priced @$25-30